Bergeron makes late pass to win non-wings at Volusia!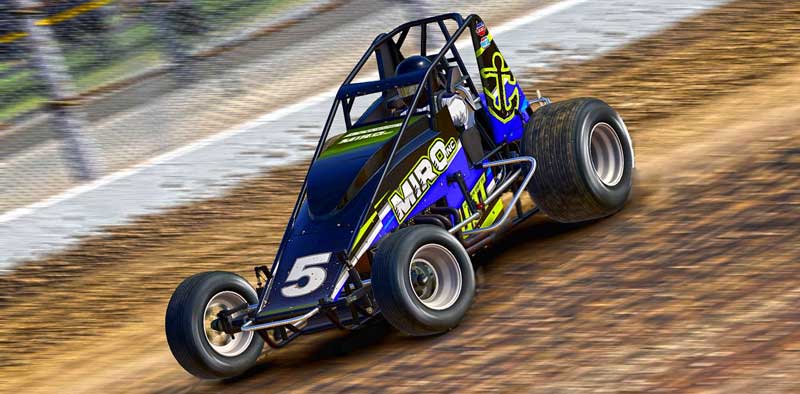 Barberville, FL - 33 non wing sprint cars checked into the pits at Volusia Speedway Park for race #2 of the VLR non wing series. The night began with Knoxville winner 
Austen Semmelmann
 setting quick time with a lap of 15.512. He would set the pace in heat 1 picking up the win, while brother 
Dillon Semmelmann
 grabbed the win in heat 2, and week 1 runner-up 
Anthony LoPresto
 won heat 3. 
Rob Raffert

y
 would go on to dominate the B Main leading every lap, setting up the 20 car field for 35 laps of action. 


Pole sitter and dash winner Dillon Semmelmann would jump out to an early lead, setting the pace for the first handful of laps before Black Diamond Motorsports driver Trevor Royer would overtake him for the lead. 

Trouble would strike for the Pennsylvania driver after leading the race, getting too high on the treacherous cushion and making contact with the turns 3 and 4 wall handing the lead over to UWU Motorsportsdriver Anthony Lopresto.

In the closing laps VLR driver Alex Bergeron would race his way into 2nd, closing on Lopresto for the lead. He would grab the top spot out of turn 2 with a close slidejob with slight contact. 

Teammate Austen Semmelmann would follow him into 2nd from his 6th starting spot and set his sights on the Canadian driver for the lead. Alex proved to be too strong as he would hold on for his first career non wing sprint car win!

Austen Semmelmann would come home 2nd, John Battista in 3rd, young gun Cole Neuhalfen finished an impressive 4th, and Tim Smith rounded out the top 5 from 16th. 

A Main Winner: Alex Bergeron
Hard Charger: Tim Smith/ John LoPresto (+11)

A Main Results: (Starting Position)

1. Alex Bergeron (3)
2. Austen Semmelmann (6)
3. John Battista (5)
4. Cole Neuhalfen (7)
5. Timothy Smith (16)
6. David Heileman (12)
7. Britton Roxberry (8)
8. Bobby Rafferty (13)
9. John Lopresto (20)
10. David Flick (17)
11. Jonathan Smith (18)
12. Trevor Fisher (11)
13. Anthony Lopresto (4)
14. Trevor Royer (2)
15. Jacob Fields (19)
16. Dillon Semmelmann (1)
17. Nathan Davis (9)
18. Dylonn Fox (14)
19. John Fidler (15)
20. Stephen Hill (10)